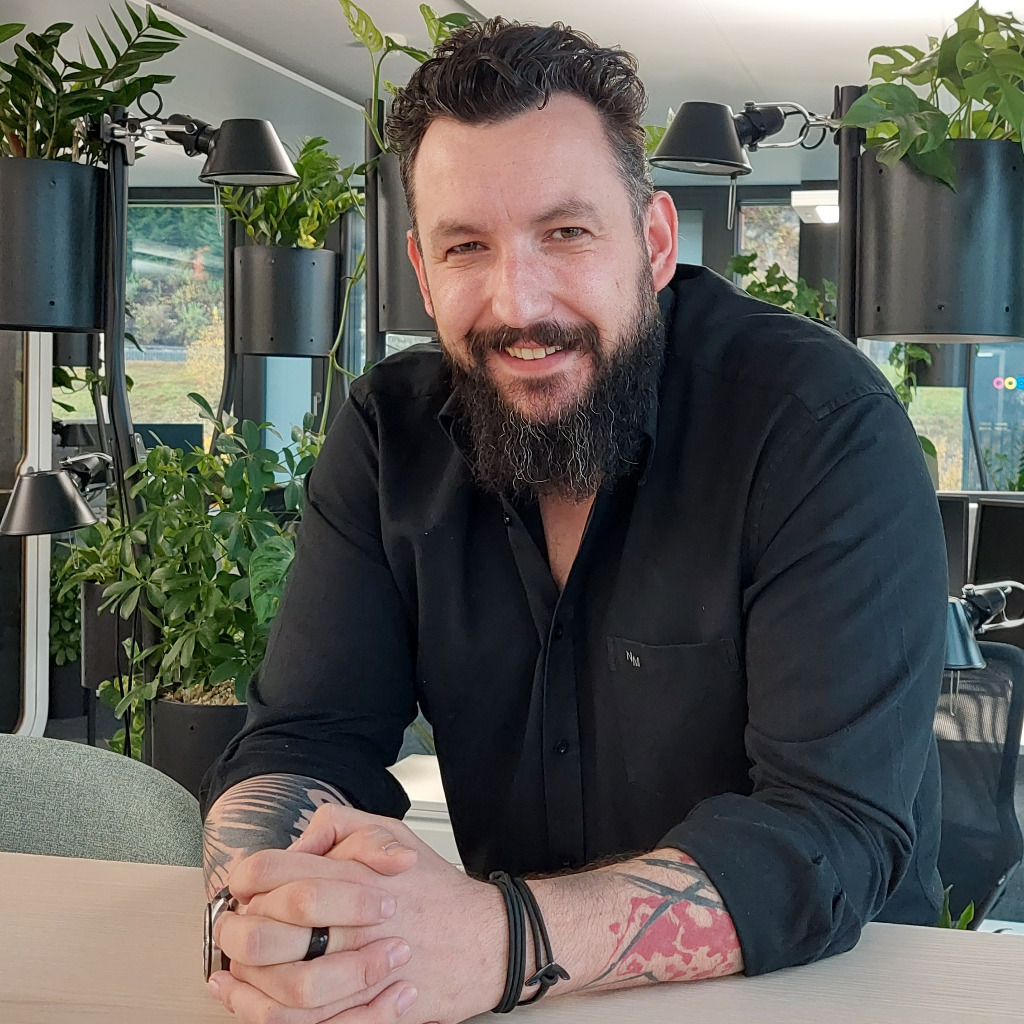 Heute durfte ich mit Nuno Mon­teiro spre­chen. Er ist Voll­blut­per­so­na­ler schon seit 15 Jah­ren und durfte schon in ei­nige Fir­men in Eu­ropa und Asien rein­schauen. Ak­tu­ell führt er das Per­so­nal­team von Mi­ma­com Flowa­ble Group, ei­nem Be­ra­tungs­un­ter­neh­men für Soft­ware­lö­sun­gen. Die Frau­en­quote in sei­nem Team ist spie­gel­ver­kehrt zu dem Rest des Un­ter­neh­mens und bei ihm ist ei­gent­lich im­mer je­mand schwanger.
Lieber Nuno, ich kenn dich ja ein bisschen, wir haben vor ungefähr 5 Jahre zusammengearbeitet. Schön, dass du dir heute Zeit für YourHappyBox und das Thema Frauen in der Arbeitswelt nimmst. Erzähl doch kurz ein bisschen von dir, sodass unser Leser sich ein Bild machen kann.
Ja sehr gern so­gar. Ich bin schon seit An­fang an mit Herz und Seele Per­so­na­ler. Die 1. Hälfte mei­ner bis­he­ri­gen Kar­riere habe ich in Asien ver­bracht und bin nun seit rund 7 Jah­ren in der Schweiz. In mei­ner ak­tu­el­len Po­si­tion bei mi­ma­com bin ich ein knap­pes Jahr und su­per happy, dass ich mich hier voll ent­fal­ten kann. Die Per­so­nal­ent­wick­lung ist für mich das Span­nendste an mei­nem Job, denn ich bin fest über­zeugt, dass nur glück­li­che Mit­ar­bei­ter auch wirk­lich pro­duk­tiv sind. Des­halb gibt es in mei­nem Team eine Chief Hap­pi­ness Of­fi­cer, das ist mehr als nur ein fancy Ti­tel, denn für uns als Be­ra­tungs­un­ter­neh­men sind un­sere Mit­ar­bei­ter un­ser wich­tigs­tes Gut. Wir sind ak­tu­ell in der glück­li­chen Lage, dass wir viele span­nende Auf­träge und Kun­den ha­ben und je­der zu­sätz­li­cher Mitarbeiter*in be­deu­tet, dass wir mehr Pro­jekte ab­wi­ckeln können.
Nun besteht dein Team meistens aus Frauen, wie sehr wird dein Alltag durch Schwangerschaft beeinflusst?
Na­tur­ge­mäss halt oft. Ich ar­beite viel mit jun­gen Men­schen zu­sam­men und wie in vie­len HR teams sind ein gros­ser Teil mei­nes Teams Frauen. Ge­rade die­ses Jahr sind zwei mei­ner Team­mit­glie­der schwan­ger ge­wor­den — und ha­ben vor Kur­zem ihre Kin­der ge­sund zur Welt gebracht"
Wie bist du damit umgegangen?
Ach, ich finde da gibt es nur eine Art mit um­zu­ge­hen. Freude für die Mit­ar­bei­te­rin. Ist es für mich doof? Ja lo­gisch. Die Mit­ar­bei­te­rin wurde für eine be­stimmte Stelle ein­ge­stellt und die Ar­beit bleibt ja wei­ter­hin. Aber ich finde du musst dich als Chef im­mer daran er­in­nern, dass hin­ter der Per­son ein Le­ben steckt. Für mich war es un­glaub­lich er­schre­ckend zu se­hen, wie viel Pa­nik meine Mit­ar­bei­te­rin­nen hat­ten mir das mit­zu­tei­len. Da­bei ist es ein­fach et­was Na­tür­li­ches und ehr­lich ge­sagt kann man al­les or­ga­ni­sie­ren. In der Schweiz sind die Müt­ter in der Re­gel et­was kür­zer in Mut­ter­schaft als in Deutsch­land. Da kann es schon sein, dass man eine Stelle noch­mals neu be­set­zen muss und dann sich neu auf­stellt, wenn die Mit­ar­bei­te­rin bei­spiels­weise nach 2 Jah­ren wie­der zurückkehrt.
Was würdest du Frauen empfehlen für die Kinderplanung und den Umgang mit Familie und Beruf?
Also aus mei­ner li­mi­tier­ten Sicht, ich bin we­der eine Frau noch habe ich Kin­der, kann ich nur mit­ge­ben was es mir als Per­so­na­ler be­son­ders ein­fach macht. Wenn die Frau für sich ent­schei­det, was sie gerne möchte und das dann auch trans­pa­rent kom­mu­ni­ziert. Dann habe ich näm­lich ei­nen kla­ren Stand­punkt und kann drum herum pla­nen. Da­bei ist es mir egal ob meine Mit­ar­bei­te­rin 4 Mo­nate oder 3 Jahre in Mut­ter­schaft bleibt. Es gibt mei­ner Mei­nung nach kein falsch oder rich­tig. Frauen und ihre Part­ner müs­sen ent­schei­den, was für sie rich­tig ist und dann los. Dar­auf kön­nen wir uns dann su­per ein­stel­len und anpassen.
Was gefällt dir immer besonders gut, wenn du CVs bekommst von Müttern die gerade Auszeit vom Job genommen haben?
Ich finde es ge­ne­rell nicht so re­le­vant, wenn man eine Aus­zeit für die Kin­der ge­nom­men hat. Na­tür­lich hängt das ein biss­chen von der Dauer ab und was man noch ge­macht hat, aber für mich sind die Er­fah­run­gen vor dem Kind/ Kin­dern re­le­vant. Ich bin im­mer schwer be­ein­druckt, wenn je­mand prä­sent ist und sehr klar zu der Aus­zeit ste­hen kann. Ich werde ein biss­chen ner­vös, wenn die Ant­wor­ten ein «wi­schi­wa­schi» sind. Wenn ich nicht ge­nau ver­stehe, ob sie jetzt ei­gent­lich bei den Kin­dern blei­ben wollte oder nicht. Ich bin nicht so Fan da­von, wenn man die Zeit im CV als «CEO of fa­mily» be­schreibt. Das ver­nied­licht das Ganze mei­ner Mei­nung nach zu stark. Aber ich finde in der Zeit macht man sehr viel, was wir so­ge­nannte «trans­fera­ble skills» nen­nen und das finde ich im­mer su­per, wenn die her­vor­ge­ho­ben wer­den. Mei­ner Mei­nung nach muss nie­mand sich wäh­rend der Zeit wei­ter­bil­den, son­dern kann sich auch aus­schliess­lich auf die Fa­mi­lie kon­zen­trie­ren. Falls das aber ge­wünscht ist, gibt es so viele tolle, kür­zere Wei­ter­bil­dun­gen die su­per Sinn machen.
Was sind denn zusammenfassend deine Top-Tipps für werdende Mütter und auch immer mehr Väter im Umgang mit der Karriere und Familie?
Ver­kauft euch nicht un­ter Wert. Ge­rade nach ei­ner Schwangerschaft/Auszeit. Seid ge­nauso kri­tisch wie frü­her auch. Der Job muss pas­sen und du dich dar­auf freuen
In­vol­viert die Män­ner­welt in die Pla­nung und Si­tua­tion. Break the bias. Ich bin mir be­wusst, dass es an­stren­gend ist, aber oft ent­ste­hen Si­tua­tio­nen, die nicht schön sind. Das finde ich muss man her­vor­he­ben. Dann kann man ganz klar sa­gen was ge­rade nicht stimmt und wie es sich für euch an­fühlt. Die nächste Per­son, die nicht in die­ser Si­tua­tion sein muss, wird es euch danken!
Zu­sam­men­hän­gend mit dem 2. Tipp – Sagt es so laut wie mög­lich, wenn es Fir­men ak­tiv gut ma­chen. Tauscht euch aus und stellt si­cher, dass ihr die Fir­men, die sich un­trag­bar ver­hal­ten auf die «Black List» kom­men.
Fin­det eu­ren ei­ge­nen Weg und nimmt euch ech­ten Roll­mo­del. Viel zu viel fin­det auf So­cial Me­dia statt und man hat das Ge­fühl das sind al­les Su­per­hu­mans. Eure Vor­bil­der müs­sen zu euch und eu­rem Le­bens­plan pas­sen und es viel ein­fach das ge­wünschte Le­ben zu Le­ben als et­was ge­stell­tem hinterherzueilen.
Wer­det alle Pro­gram­mie­re­rin­nen und kommt zu mimacom 🙂
Wei­tere span­nende In­ter­views zum Thema Kar­riere und Kind fin­det ihr hier.